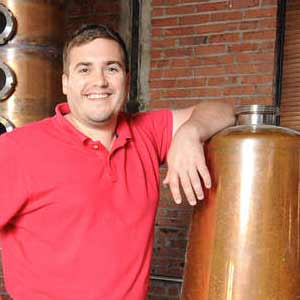 Robert Cassell
NEW LIBERTY DISTILLERY
Rob Cassell began his distilling career in Philadelphia as the first craft distiller in the state of Pennsylvania since Prohibition.  In 2004, he and his uncle founded Philadelphia Distilling and he's never stopped innovating. When Cassell first attempted to apply for a Pennsylvania distillery license, Pennsylvania Liquor Control Board officials had to create an application form for him, because none existed. He began by creating Bluecoat American Dry Gin in 2006, Penn 1681 Vodka in 2008, Vieux Carre Absinthe in 2009, and XXX Shine in 2011.  Also in 2011, Rob gave testimony to the Pennsylvania Senate Law and Justice Committee arguing for reform of Pennsylvania's 1951 liquor code, which bans craft distilleries from selling their products on-site, unlike wineries and breweries that also operate in the state. He has also advocated for lower federal excise taxes on small distilleries.  These seemingly small moves opened a world of opportunity to the PA distilling market. That year, Pennsylvania Distilling ranked in the top 10 of 300 smaller distilleries operating nationwide, and shipped nearly 120,000 bottles of gin.  The rest of the craft distilling entrepreneurs in our state now had a door to walk through.  In the last 6 years, the state has gone from 4 to nearly 70 distilleries statewide.
His success enabled him to move on and establish a whiskey distillery called New Liberty Distillery in the Kensington neighborhood of Philadelphia in 2014.  Whiskey is his passion and with a new, 240 gallon copper pot still of his own design, he is experimenting with local grains and malts and blazing new trails for craft spirits.  He has even gone abroad and become master distiller and founder of Connacht Distillery in Ballina, Ireland.  So from the American east coast to the west of Ireland, Rob Cassell is pioneering the future of craft distilling.
Listen to Rob's story from the man himself.  Understand how he helped to establish what is quickly becoming one of the greatest comeback stories for American distilling- A Modern History of Pennsylvania Distilling.